P Tylliros is a construction and development company in Cyprus found by Mr Panicos Tylliros in 1994, a contractor with years of experience in the construction industry.
Since foundation the company has been delivering the dream home of people from various backgrounds and is currently proud of an extensive portfolio of properties including maisonettes, luxury apartments, houses, semi detached houses and villas. The company undertook the construction of custom made villas in Limassol as well. P Tylliros has delivered several properties in the most sought after areas of Limassol including Yermasoyia, Episkopi, Erimi, Colossi and Ypsonas all with easy access to the city of Limassol and the motorway. The company is ready to undertake the construction and delivery of your dream home in any area of Limassol.
The success of the company is strictly bound to certain aspects of the work, on which the company focuses. First of all the company is committed in using only materials of high quality and standard specifications. Employed by the company are only skilled professionals with experience in construction. The management team and the stuff are in continuous cooperation during the different stages of the building process and both parts strive towards the timely delivery of your home. Customers are encouraged to get involved in every stage of the building process in order to make suggestions and make sure the receive the desired results.
P Tylliros aims to continue providing housing services to customers and establish itself as one of the most successful construction and developer company in Limassol. To arrange a showing and receive any other information feel free to contact the company offices.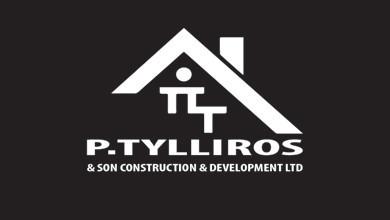 Address & Contacts
Street Address
11 Nikou & Despinas Pattichi , Paschalis court , Office 1 (ground floor) , Limassol 3071 , Cyprus
Contact
Working Hours
now
Normal Opening Hours
Mon:

09:00-13:00

15:00-19:00

Tue:

09:00-13:00

15:00-19:00

Wed:

09:00-13:00

Thu:

09:00-13:00

15:00-19:00

Fri:

09:00-13:00

15:00-19:00

Sat:

Closed

Sun:

Closed